Engineers without borders: prosthetic limb workshop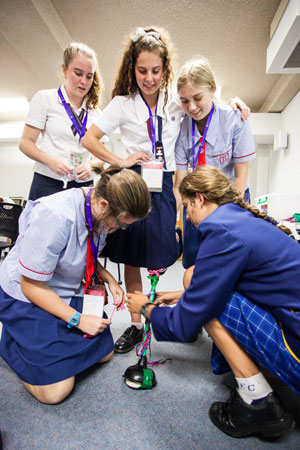 The Prosthetic Leg workshop focuses on promoting the medical side of engineering and provides students with the knowledge and opportunity to think laterally and innovatively.
Students learn about the social issues influencing the work of biomedical engineers in Cambodia and nations whose public health similarly deal with the repercussions of war. Students will acquire a general understanding on the importance of connectivity, load, and stability when designing a robust and fully functional mechanism. The activity also requires students to undergo a process of material selection while assessing them on cost, resources and effectiveness of design.
In pairs, students in this workshop are provided with a specific time frame and limited resources in order to construct a prosthetic leg suitable for an amputee. Once the construction process has been finalised, one student of each pair will volunteer to test the design. The teams will have a race and the winners will be elected based on effectiveness of design and speed. Students will learn that a person in any discipline, not limited to those traditionally associated with humanitarianism, can work towards improving the lives of others in unique ways.
Workshop details
Workshop type: Engineering
Minimum number of students: 5
Maximum number of students: 30
Year level: Year 8 - 10
Duration: 1 hour
---
Please direct enquiries about this workshop to: