Technology and user experience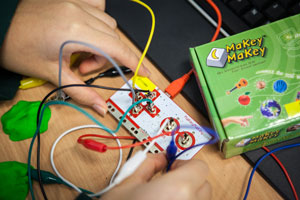 With the use of a MaKeyMaKey kit you will create collaborative human-remote controllers and play Space Invaders or control a flight simulator.
The workshop is fun and hands-on, and requires no former experience.
Cost
$200 (Schools with an ICSEA rating of less than 950 can request for a discounted rate of $50 (inc GST) per class. Check your school's ICSEA rating.
Workshop details
Workshop type: Information Technology
Minimum number of students: 5
Maximum number of students: 30
Year level: Years 7 - 12
Availability: by appointment. Terms 1 & 2: Tuesdays and Thursdays; Terms 3 & 4 Mondays and Wednesdays
Duration: 1 hour
---
Please direct enquiries about this workshop to: