Create your own indoor air quality monitor (StudyFresh)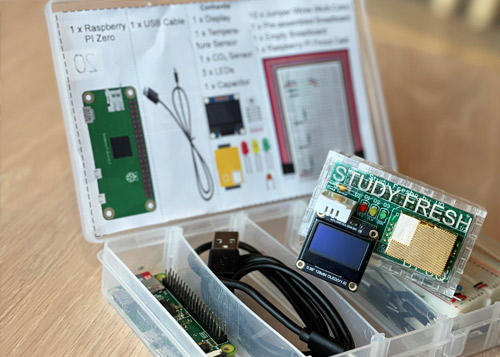 Have you ever walked into a room and thought wow, this room is stuffy, even though the air conditioner is on?
Did you know that improving indoor air quality can have a positive impact on cognitive and academic performance? This all has to do with the indoor air quality (IAQ) of the room. We can measure IAQ by measuring the level of carbon dioxide (CO2) in the air.
Students will become an engineer for the day and create an indoor air quality detection device to test the air quality of their classroom by programming Raspberry Pi's. In this session, students will discover:
The importance of Indoor Air Quality
How to program a Raspberry Pi using Python
Optional extra:
Students work alongside UQ researchers to gather data and improve IAQ in Queensland classrooms!
The Study Fresh research project aims to increase productivity in Queensland schools through ensuring the healthiest possible learning environment. Students become citizen scientists, monitor the air quality in their classrooms and learn ways through which they can improve it- volunteering on a project that contributes to real science outcomes. The data can be used for learning around data analysis, statistics, environment and sustainability, and diagnose simple behaviours such as opening windows between classes to ensure classrooms have the best air quality possible. This project is proudly supported by the Queensland Government – Queensland Citizen Science Grants.
Cost
This workshop is Free.
Workshop details
This is an advanced workshop designed for students in years 11-12 upon request.
Workshop type: Engineering
Year level: Year 11 - 12
Duration: 1.5 - 2 hours
Maximum number of students: 20
---
Please direct enquiries about this workshop to: