Research led by The University of Queensland has unlocked the composition and sensory properties of a native Australian nut, highlighting its potential across a range of products in the novel food sector.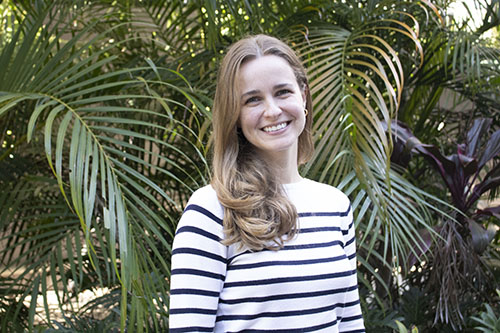 PhD candidate Jaqueline Moura Nadolny from the School of Chemical Engineering and QAAFI's Centre for Nutrition and Food Sciences studied the bunya nut (Araucaria bidwillii), a seed from a native conifer, and compared its properties to the sweeter chestnut.
"I looked at the properties of the bunya nut starch, such as rheological and thermal properties, which helped me to understand the behaviour of the bunya nuts and their flours upon processing," Ms Moura Nadolny said.
"I have prepared breads using the different types of bunya nut flours and now I am evaluating the viscoelastic properties of the dough as well as the texture of the bread to assess its suitability for the food industry.
"For example bunya nut, and consequently the flour, are gluten free."
During her research Ms Moura Nadolny found bunya nuts had a savoury taste and contained a lot of resistant starch like the potato.
Bunya nuts also contain protein, all the essential amino acids, minerals and fatty acids such as omega 3 and 6.
"Bunya nuts are not highly valued by many non-Indigenous folk because often when the cones drop, people don't know it's a food," Ms Moura Nadolny said.
"But they are highly nutritious and very important to Indigenous communities in Queensland.
Professor Odette Best, an Indigenous academic and researcher from the University of Southern Queensland helped Ms Moura Nadolny collect her bunya nut specimens, taking her to trees she knows well.
"The bunya nut holds great cultural significance for First Nations peoples," Professor Best said.
"Not only is it used as a deeply nourishing food source, it is also steeped in cultural practice and songlines for the Nations who survived and thrived with its usage."   
Nuts from the same family are also commonly eaten in Brazil, where Ms Moura Nadolny was born.
 "In Brazil you can see the nuts in the supermarkets – they make beer, they make flour, they make a lot of products," Ms Moura Nadolny said.
"It wasn't until after I started my project that I saw the bunya nut, and thought, oh wow, it's the same, especially the inside and the taste.
"One of the main parts of my project is to understand what has been researched in Brazil and try to apply it to Australia, including what type of industrial equipment could be used to open the nuts, economic analysis of the process and value chain aspects."
Ms Moura Nadolny said she hoped her chemical engineering research would increase opportunities and awareness on the market potential of bunya nuts.
"I hope the research can be the foundation for Indigenous communities to develop products and create businesses and jobs with those products," she said.
The UQ student was thrilled to be offered the cover when her paper was published and said she hoped to continue her research.
"I would like to keep working with food as I love it, particularly foods that are naturally found.
"I'm also interested in how these foods can be processed into highly nutritious commercial products."  
The paper was published in the Journal of Food Science DOI: 10.1111/1750-3841.16185), and was featured on the cover. 
Ms Moura Nadolny works with advisors Professor Jason Stokes, Dr Heather Shewan and Associate Professor Heather Smyth, with her PhD funded by the Australian Research Council's training centre for Uniquely Australian Foods.