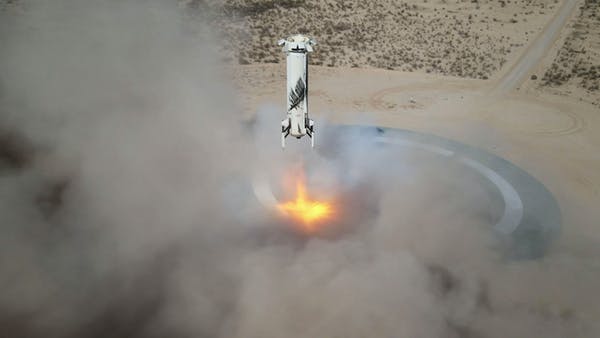 This article was originally published on The Conversation.
Over the next fortnight, Blue Origin founder Jeff Bezos and Virgin Galactic founder Richard Branson will take off into space, because they can, on spaceships designed by their respective companies.
It's a big moment for the private space industry. But the question comes to mind: who has the smarter plan?
A billionaire's space race
On May 5 Blue Origin, owned by former Amazon CEO Jeff Bezos, announced it would fly its first crew of astronauts into space on July 20 — the Apollo 11 Moon landing's 52nd anniversary.
After 15 successful test flights, this will be the first crewed flight for Blue Origin's New Shepard spaceship. One seat will be occupied by an undisclosed winner of a charity auction, who reportedly paid US$28 million for the privilege. Two more seats will be taken up by Bezos and his brother Mark.
A fourth seat will go to Wally Funk. The 82-year-old pilot was a promising candidate in the 1960s Mercury 13 women's astronaut training programme, but wasn't able to go to space because of her gender.
It wasn't long after Bezos announced his plans that Sir Richard Branson also joined in, setting a launch date of July 11 — nine days before Bezos's departure.
Branson will travel as part of a six person crew on Virgin Galactic spaceplane VSS Unity. It will be the fourth time the VSS Unity, the specific SpaceShipTwo spacecraft, has been flown to space, but the first with a full crew.