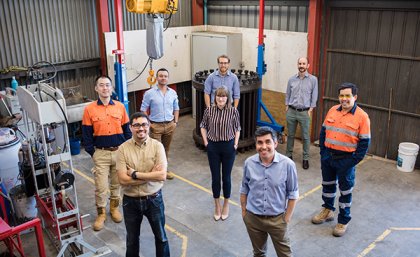 This article was originally published on UQ News.
It's not easy to predict how rock will fracture when exposed to a blast hundreds of metres below the earth's surface, but a piece of experimental equipment will take away the guess work for The University of Queensland's blasting and fragmentation technology team.
The unique chamber will allow the team, led by UQ's Associate Professor Italo Onederra and Dr Christopher Leonardi, to validate advanced modelling tools that will help them to develop safer mining techniques that are also better for the environment.
Dr Onederra said the team was the only research group in the world with this kind of experimental capability.  
"We can place a rock in the enclosed chamber, apply hydrostatic pressure, then set off a blast to simulate a deep underground rock blasting scenario," Dr Onederra said.
"It allows us to see how rocks react under these very specific conditions, filling knowledge gaps in the fundamental science of rock fragmentation, which will ultimately improve outcomes on mine sites and beyond.
"We are able to combine this new capability with our rock characterisation process that uses specialised digital imaging techniques and advanced numerical algorithms for blasting and fluid flow modelling, positioning us perfectly to tackle some of the big challenges facing the mining sector as it transitions to net zero emissions," he said.