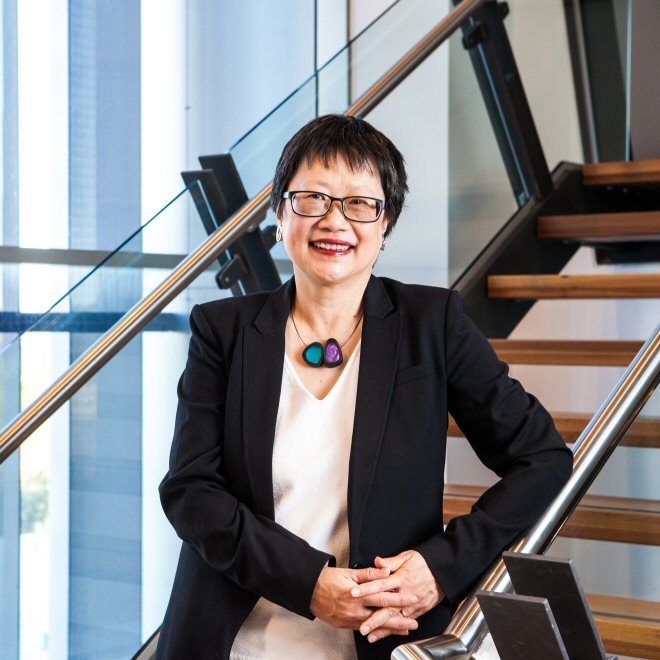 Well, it has been another unprecedented start to the year following the devastating flooding events in QLD and NSW and COVID-19 continuing to impact our community.
I hope you and your families are safe and well.
Despite the disruption, it's wonderful to see the buzz return to campus as we welcomed back our students for Semester 1 2022. They are eager to enjoy the rich experiences on offer on campus and I am delighted to provide an update on the many exciting things happening in the faculty.
 
I am pleased to say that our student numbers are encouraging for Semester 1. We have strong interest in our Engineering programs among domestic students, as well as a healthy demand for our new multidisciplinary Design programs, especially as a dual with other degrees, and the new vertical dual degrees in Computer Science with either Cyber Security or Data Science.
Acceptance and enrolment numbers for international students are also providing positive indicators that Australia is bouncing back as a destination of choice for tertiary education which is encouraging to see. 
Now in its 10th year, the UQ Women in Engineering program is showing that we can, in fact, create change. For the first time ever, we have more women entering second year chemical engineering at UQ than men. We have sustainably increased the number of women studying engineering since the program commenced in 2013 and this year, we have welcomed our largest ever cohort of women into engineering.
Industry support for the program has also grown with Anglo American, EOS and Sandvik joining API, Rio Tinto, Ergon Energy and Energex in 2021 to strengthen the program into the future. As more women are choosing careers in engineering, it's important that we continue to show the rewarding pathways afforded in all engineering disciplines as we strive, in partnership with industry, to have women representing at least 30% of our engineering cohort.
Lining the UQ skyline, the impressive new home of the School of Chemical Engineering – the Andrew N. Liveris Building – was officially handed over to UQ at the end of last year. Teaching in the building is now in full swing and it is fantastic to see it has become a vibrant hub of knowledge, collaboration and learning. The research teams are progressively moving into the new, state of the art laboratories.  Also located in the new building, the Andrew N. Liveris Academy for Innovation and Leadership, established in 2019, has grown significantly. Thanks to the generous support from donors and industry partners, the Academy welcomed more than 80 scholars in 2022. They will participate in extraordinary learning experiences designed to enhance their leadership, innovation, entrepreneurship, critical thinking and emotional intelligence that will equip them to tackle global challenges facing our world.
I'd also like to congratulate our accomplished researchers who have secured more than $3.7 million thanks to funding from the 2022 Australian Research Council's (ARC) Discovery Projects Scheme. Developing heat shields to enable the exploration of planets beyond Mars, combatting antibiotic resistance, and investigating sustainable large-scale hydrogen production, are just some of the exciting research projects to get underway this year.  
A lifetime of dedication to hypersonics research and education has also earned Professor Richard Morgan the Chief Defence Scientist's Gold Commendation. Professor Morgan, the founding director of the UQ Centre for Hypersonics, and a professor at the School of Mechanical and Mining Engineering, was recognised for his extensive research in the field of hypersonics, advanced ground test facility development and commitment to mechanical and aerospace engineering education.
And last but certainly not least, Professor Tapan Saha has been recognised by Engineers Australia with electrical engineering's highest honour, the M.A Sargent Medal, for his exceptional and longstanding contributions to electrical engineering.
I hope you enjoy reading our latest stories and news in the first issue of Insight for 2022.
Thank you for your ongoing engagement and support. 
Yours sincerely,
Vicki