Glass can be recycled endlessly without loss in quality, so why are there hundreds of thousands of tonnes of glass being stockpiled and landfilled around Australia instead of being recycled or reused?
Recycling companies say there is no viable market for recycled glass with the situation reaching 'crisis point', but The University of Queensland's Dr Johnny Ho says pre-used glass can play a key role in producing Australia's construction materials of the future.
Dr Ho, from UQ's School of Civil Engineering, is working on concrete mixes that produce low-carbon-footprint, high-performance concrete using Australia's vast amounts of glass waste.
"We have three objectives: to reduce the amount of cement going into concrete because cement is an environmentally unfriendly and costly material; to increase the amount of glass that is being recycled and therefore extending the life of current landfill sites, and to reduce the use of natural materials in concrete production which will help us move towards a more sustainable construction environment," said Dr Ho.
Dr Ho's team, along with industry partners Brisbane City Council and EnviroSand, are investigating mixtures that partially replace cement in concrete with limestone, and standard aggregates like sand and rock with recycled glass.
"We evaluate our experimental concrete's performance in terms of strength, workability and durability, and aim to achieve an end product that is as strong and affordable as the current concrete mixes available, but with increased use of recycled materials and therefore a significant reduction in the carbon-footprint of the concrete," said Dr Ho.
Dr Ho believes using this excess glass in new-generation concrete is a clever use of otherwise lost resources.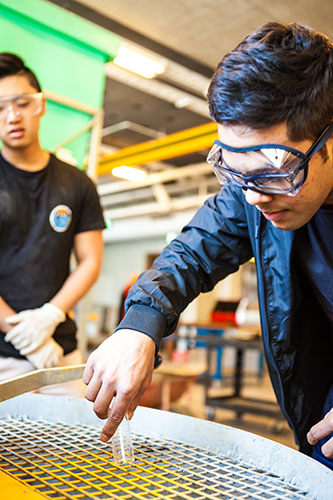 Glass is non-degradable – it is estimated to take around a million years to break down naturally - which is a problem if it is destined for landfill, but a benefit if it's used in concrete, as it produces a harder-wearing construction material.
Glass is also a great replacement for traditional aggregates, as it does not absorb water, leaving more water for the hydration of the cement within the concrete, which improves the strength of the concrete.
The recycled glass used in the project comes from the domestic 'yellow' recycling bins everyone wheels on to the street each week.
This concrete uses the bottles and jars that have broken or been mixed with other waste material and are not suitable for re-use in the manufacture of new glass products.
This material is now diverted from landfill and processed into these reusable products.
The new concrete mix with limestone and recycled glass will be used in trials across several local council footpath projects, and if successful, it could gradually replace the traditional concrete in footpath and other construction projects more broadly across the country, transforming Australia's stockpiles of recycled glass.
Learn about UQ's Bachelor of Engineering (Honours) program and the Master of Engineering featuring Australia's largest range of specialisations, including an option to focus on civil engineering. Visit the Future Students website.