This article first appeared on the Daily Mercury online.
Mining and geology students from The University of Queensland have dropped into Rio Tinto's Bowen Basin coal mines.
Eighteen students from the School of Mechanical and Mining Engineering took part in an annual visit to Hail Creek and Kestrel mining operations under the Rio Tinto-UQ partnership program.
Rio Tinto Coal Australia managing director Sinead Kaufman said the sites were delighted to welcome the group.
"Our employees were pleased to share their knowledge and experience with the students while giving them a taste of both underground and open-pit coal mining.
"We are proud of our partnership with UQ which encourages young professionals emerging from their undergraduate studies to apply for roles with Rio Tinto."
The tour of Kestrel included a visit to longwall and development panels to understand equipment used and challenges faced in a conventional underground mining operation.
Students had a chance to observe a new ventilation shaft being excavated using a blind boring technique.
The group also visited Hail Creek where they joined an open-pit mine tour supported by the site technical services team.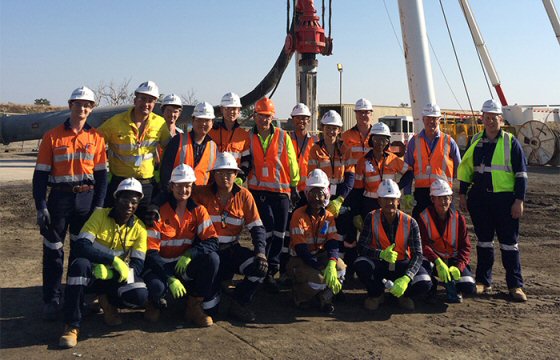 The opportunity allowed the students to put theory into practice while networking with mining industry professionals including engineers, geologists and surveyors.
UQ Professor and Mining Division Head Peter Knights said "This visit was an invaluable experience."
"The trip was all about discovering the delights of central Queensland and in particular, the largest reserves of coal in Australia, in the Bowen Basin."
"We are grateful to our partners Rio Tinto for their ongoing support and financial assistance with these visits and look forward to further collaboration."
The students concluded their trip with a visit to Rubyvale to fossick for sapphires.