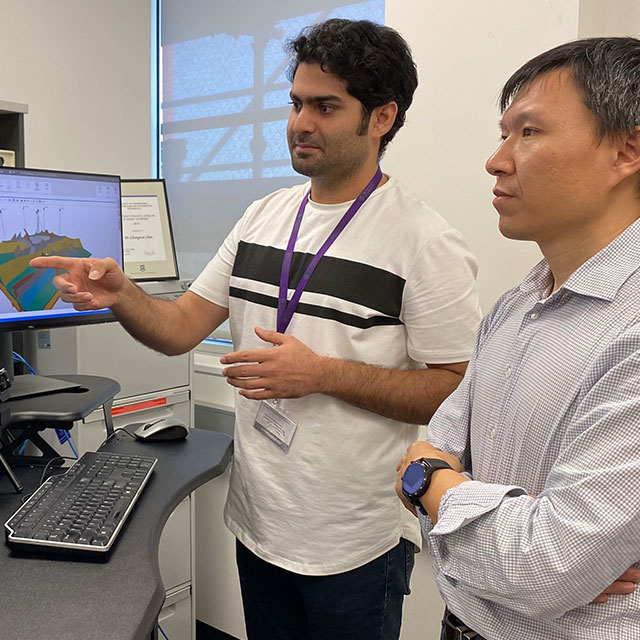 UQ research capabilities have been expanded with a new software package that optimise field development plans and mitigates any geomechanical risks associated with natural gas extraction, thanks to the generous support from Baker Hughes.
The $1.1m JewelSuite™ software portfolio application is an industry standard software that will help address the current challenges associated with drilling safer wells. 
Dr Zhongwei Chen from the School of Mechanical and Mining Engineering said the software is providing more intelligent and accurate geomechanical models.  
"This new software is capable of analysing reservoir geomechanical responses to many different scenarios, including fault reactivation, borehole stability, micro-seismic analysis, and different types of stimulation techniques, such as hydraulic fracturing, allowing researchers to define a safe operating window and reduce non-productive time," Dr Chen said.
Geomechanical reservoir modelling involves testing of subsurface rocks, exploring how rocks change in response to stress, pressure and temperature, and is an important component in oil and gas exploration. 
As coal seam gas is extracted from the subsurface, the stress path and bulk geomechanical properties of the coals and the surrounding rock formations change. Understanding how these changes occur in a depleting coal seam gas reservoir is important so that drilling for these natural gases can be conducted safely, accurately, and productively. 
Most mechanical earth models that are currently used to investigate how rocks respond to drilling, completion and production are one-dimensional and are based on well log and core data alone. The JewelSuite™ software application offers 1D to 4D well-centric models and 3D reservoir analysis, meaning that researchers can build accurate 3D models even under the extreme complexity of the reservoir subsurface. 
"The generous support from Baker Hughes is helping to develop future reservoir geomechanics leaders and drive research and collaborative opportunities between UQ and the energy and resources industries," Dr Chen said.  
Media: Dr Zhongwei Chen,  zhongwei.chen@uq.edu.au, +617 3365 3742.