A University of Queensland professor and his PhD student have won two industry awards for research in wastewater sustainability.
The two prizes were presented at the annual Australian Water Association Queensland Gala Dinner and Awards Night.
Professor Zhiguo Yuan AM, was awarded the Queensland Water Professional of the Year for his extensive work in the urban water management field.
PhD student, Zhiyao Wang, supervised by Professor Yuan together with Dr Min Zheng and Dr Shihu Hu, was awarded the Queensland Student Water Prize for her research on treating wastewater and sludge by employing novel ammonia-oxidizing bacteria.
"I am very pleased to be awarded the Queensland Water Professional of the Year, but I am even more pleased to see our future water leaders being recognised," said Professor Yuan.
"This is the second year in a row that our students have received this prize."
Professor Yuan initiated and leads the largest collaborative sewer research program in the world.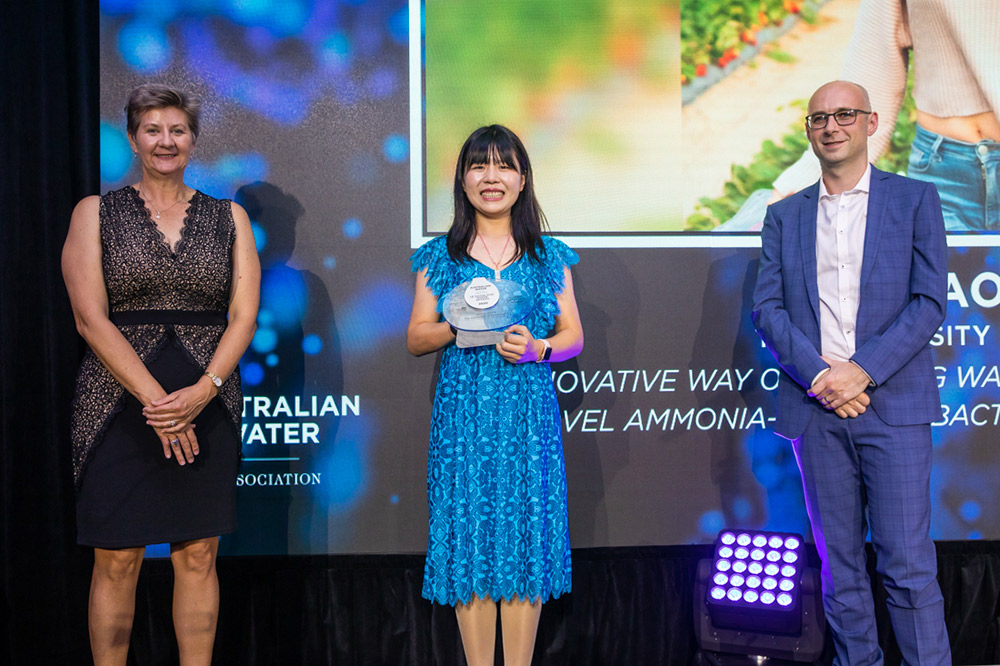 Since 1997, he has produced over 500 influential publications including in prestigious journals, Nature and Science, attracting nearly 30,000 citations by authors from 90 different countries.
His work, "putting science in sewers" fundamentally changed the practice of sewer corrosion and odour management, generating economic benefit greater than $400M.
PhD student Zhiyao Wang said that her research would benefit the wastewater sector by reducing operational costs, enhancing bioenergy recovery, and enabling sustainable sludge management.
"This is a carbon and energy-efficient nitrogen removal process, saving 60 per cent in aeration costs, and more critically, 100 per cent in carbon demand," said Ms Wang.
The developed wastewater treatment process uses novel ammonia-oxidizing bacteria to maximise energy recovery from sewage, potentially transforming wastewater treatment plants from large energy consumers to energy exporters.
"The sludge treatment process can convert waste sludge into a valuable and safe product for reuse as agricultural fertilizer." she said.
"Overall, the technologies developed during my PhD provide retrofitting options to transition wastewater facilities from pollutant removal to resource recovery."
The Australian Water Association Student Water Prize aims to encourage and reward students for excellence in water-related studies and research, and provides a forum for students to display their academic excellence, innovation, and/or research findings to future employees, clients and the water industry.
All state winners are now in the running for the National Water Awards which will be announced in May 2021 at the Ozwater'21 Conference.
Media Contact: Sharon James s.james@awmc.uq.edu.au 3346 7205