A mission to design ventilators that could serve COVID-19 patients has brought together 200 bright engineers and their students at The University of Queensland.
The UQ Ventilator Design Hackathon has tasked the students and their mentors to design a variety of ventilator components that could be manufactured locally within an emergency time frame.
UQ's Professor Ross McAree said the work engaged students in the broader engineering effort to significantly enhance Queensland's capability to respond to COVID-19-related ventilator shortages.
"We believe that engineering is about working in a team on real-world challenges, not just performing well in an exam," Professor McAree said.
"This is a great opportunity for our students to work with industry professionals to make a lasting impact in the community."
Taking ventilator specifications set out by Australia's Chief Scientist, Dr Alan Finkel, the design groups have worked with clinical advisor, Brisbane anaesthetist Dr Erich Schulz.
Electrical engineering and business student, Rohit Nunna, said the intensive week-long effort has involved working remotely and, for some, at the UQ Innovate makerspace.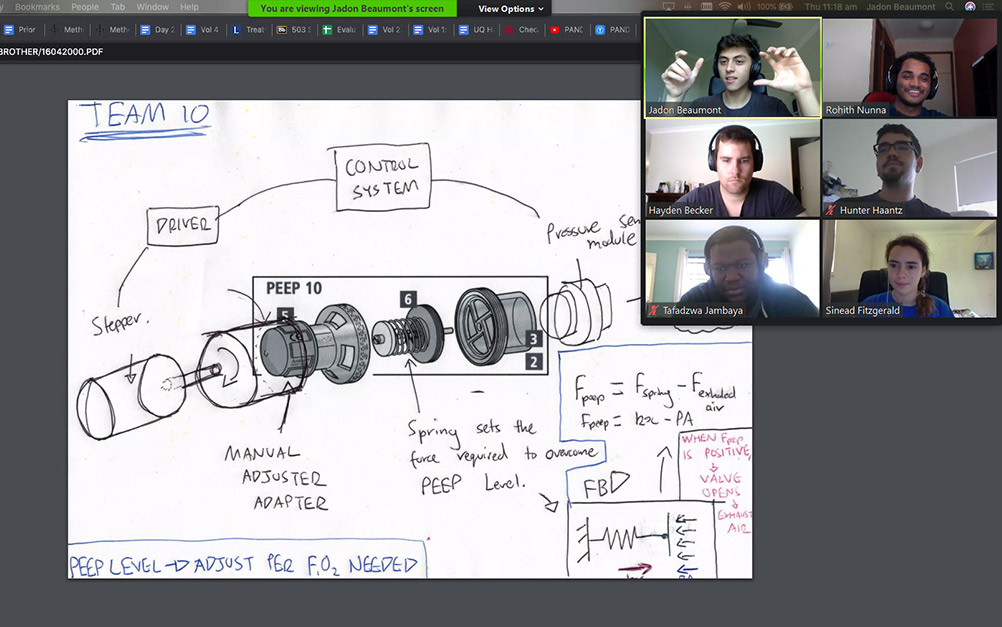 "It's been a huge positive learning curve," Mr Nunna said.
"I can now really appreciate the beauty of fundamental engineering principles and how they need to be applied to a complex problem like building a ventilator
Professor McAree said the hackathon would help position Queensland for longer term engineering and manufacturing security around medical devices.
"The best ventilator component designs from the hackathon will be further developed and prototyped for evaluation in Queensland hospitals," he said.
The University has mobilised experts across many fields to help tackle COVID-19, including teams assisting with the rapid manufacturing of face shields and face masks for use in Queensland hospitals.
Minister for Health and Ambulance Services Steven Miles said it was great to see the next generation of engineers designing and building equipment that could one day end up in Queensland hospitals.
"It is amazing to see some of the innovative ideas and solutions these students have worked so hard on creating in only a short amount of time," Minister Miles said.
"Thankfully, we have seen a manageable number of positive cases of COVID-19 in Queensland where we have had enough ventilators to meet demand.
"However, it is comforting to know that we have some great minds here at UQ, thinking and designing ventilators that could be manufactured in a timely manner."
Media: UQ Communications, Genevieve Worrell; g.worrell@uq.edu.au; +61 408 432 213; Minister for Health, Katharine Wright; 0428 957 903.