Ten enthusiastic mining engineering students from The University of Queensland joined university students from across the world at the 41st International Collegial Mining Games in Virginia City, USA in March 2019.
The students embraced the adventure, recognising the opportunity to kickstart their careers by showcasing their skills and networking with globally-renowned organisations over the three-day competition.
The International Mining Games (IMG) sees around 200 mining, metallurgy and geology students come together to honour 91 miners who perished in the 1972 Sunshine Mine disaster.
UQ student Lachlan Jensen is in his second-last year of studies and was part of the two-team UQ contingent in Nevada.
Lachlan said the experience was an "adventure of a lifetime".
"The competition gives students the opportunity to experience first-hand the challenges of traditional mining techniques and put their skills into practice," he said.
"It also provides perspective on the history of mining and how operating conditions have changed."
The Games require groups to compete in eight traditional mining activities, including single jack hand steel, jackleg drilling, hand mucking, gold panning, track stand, swede saw and surveying.
The teams persevered through snow and sleet, with temperatures well below zero, to bring home both first and third place in the 'jackleg' activity.
With freezing hands and clouds of dust filling the chilled air, the teams felt their teeth chatter as they used air-compressed drills to break through hard rock, as miners have done since the industrial revolution.
Teamwork is the key in the 'mucking' activity, Lachlan's pick of the lot and a nod to the toiling miners of the past.
"All hands are on deck in 'mucking', a fast-paced, achingly strenuous task that involved shovelling dirt into a cart and racing it up a track," he said.
"You have to figure out who will be shovelling, who will be running and you need to be strategic - tag teaming in and out every 30 seconds for the entire task across 10 minutes, just so there's time to catch your breath.
"It's really physical!"
The eighth activity?
"Well, it wouldn't be a mining event without kicking it off with a beer chug competition, and the UQ team shone for the second year in a row," Lachlan said.
The teams also took second place in 'gold panning' and third in 'surveying'.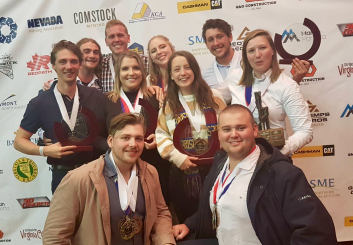 Lachlan said that, despite their jet lag, the smiles couldn't be wiped off the teams' faces.
"Opportunities like these really give students like myself a glimpse into industry outside of Australia and allow for friendships to be grown alongside industry professionals and other students from around the world," Lachlan said
"It was great to understand where the industry is heading and what challenges lie ahead.
"Without generous support from industry, opportunities like these would not have been possible.
"A special thanks goes to The University of Queensland, Jellinbah Group, Evolution Mining and Gnomic Exploration Services: your contribution has empowered the team to go beyond what we'd imagined."
UQ students interested in participating in the 2020 IMG in Colorado, USA, please email img.uqmama@gmail.com. If you are interested in offering support to the UQ IMG team, please contact the EAIT Advancement team at advancement@eait.uq.edu.au