Information technology students are transforming The University of Queensland into a 'SmartCampus', connecting custom-built Internet of Things (IoT) devices with a cutting edge LoRaWAN network.
By 2020 there will be over 20 billion Internet of Things (IoT) devices deployed worldwide. Our lives are quickly being transformed through newly interconnected technologies that we can wear, that live in our homes and our workplaces and that talk to each other without us even knowing it, and it's LoRaWAN that does the connecting.
Using Long Range Wide Area Network (LoRaWAN) communication technology, the IoT is able to exchange data between the physical world, computer systems and back again, and UQ is ahead of the curb, rolling out its own LoRaWAN network to assist in the research and teaching of IoT technologies.
LoRaWAN is to IoT devices what 4G is to smart phones or WiFi for laptops. It supports low-cost, low power, mobile communications for IoT devices with a range of up to 16 kilometres line-of-sight.
Using the network, we can tap into the physical world using sensors of all kinds, analyse the information they collect and make decisions based on that data.
IoT is currently at the top of the Gartner Hype Cycle for Emerging Technologies and promises to transform our cities, homes and our lives.
Having a refrigerator that can tell you the weather may seem fun, but streetlights that turn on automatically when pedestrians walk under them at night can save energy and make our streets safer, and cars that negotiate a daily rate of insurance for you every morning based on the weather and market movement can save you time and money – the possibilities are endless.
The School of Information Technology and Electrical Engineering has installed two LoRaWAN gateways and they are used to transmit the data from IoT devices developed by students during key undergraduate courses.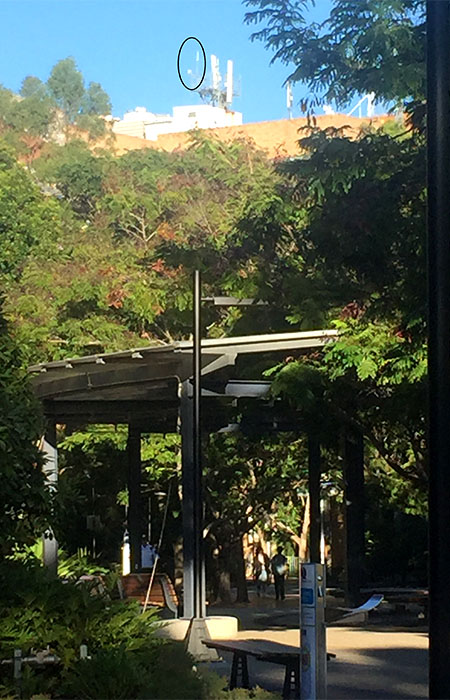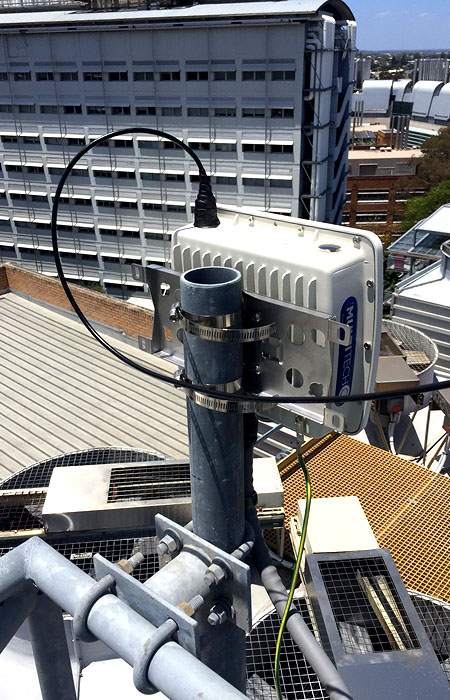 Students have already developed a wide range of IoT devices, including an electronic nose that can identify different odours; a sensor that can judge the number of people at an event and provide feedback about the event's popularity, and a large UV Index indicator sign that was developed in conjunction with Cancer Council Queensland and will be installed at the UQ Lakes bus stop for public use.
These devices collect information via their sensors and transmit this data to a central location for analysis. The information can be displayed online via custom-built web-apps developed by the students.
UQ Senior Lecturer, Dr Alex Pudmenzky said the course has benefits for students beyond learning about design computing.
"UQ's budding engineers and designers learn how to integrate their technical skills into the business world and apply their knowledge to build permanent IoT installations on campus," said Dr Pudmenzky.
"By designing and building LoRaWAN-connected IoT devices and associated web-apps, students learn how this emerging technology can have a lasting impact in the community and they gain skills critical to the job market of the future."
Come along to the Studio 3 Exhibition to view the IoT projects of more than 250 third-year UQ information technology students on Friday 27 October.