Hosted by the EAIT Student Employability Team.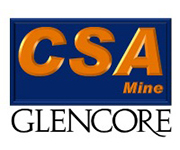 About Glencore
CSA Mine at Cobar, in regional New South Wales, is one of Australia's highest-grade copper mines. At 1.8 kilometres deep, it is one of the deepest mines in Australia. We produce about 45,000 tonnes of copper each year. This is mined and processed on site, and railed 700 kilometres to the Port of Newcastle for export to smelters in Asia.
How will our students benefit from attending?
Students will benefit by having a chance to interact and network with Glencore's representatives who will provide an insight into careers in mining from a current engineer, with experience having worked across opencut coal, underground coal, and underground copper with a diverse range of technical exposure. Students have the opportunity to hear about careers available as well as pathways into the mining industry via the Q&A portion of the session. 
What makes your organisation an employer of choice?
CSA mine and Glencore as a business provide ongoing employment to professionals in the resources sector across numerous commodities around the globe. We invest heavily in tomorrow's talent through entry-level programs, and by ensuring our future workforce is equipped with the right skills, guidance and professional development opportunities.
This session will be most suitable for the following disciplines:
Chemical Engineering
Civil Engineering 
Computer Science
Electrical Engineering
Information Technology
Mechanical Engineering
Mechatronic Engineering
Software Engineering
Human Resources and Business
Health, Safety and Hygiene
Accountancy
Environmental
Metallurgy
Surveying
Please note: Glencore has opportunities for Australian Citizens and permanent residents only.
Event Details: 
Date: Wednesday 4 May, 2022 
Time: 12:30pm - 1:30pm
Location: Hawken Engineering Building (50), Room 50-S201 and online. 
If you are an engineering student, you might be able to claim Type B hours (under Category 8) for attending this event. See the activity table for full details.
About Employability Events
A unique opportunity to hear from industry on upcoming opportunities in the workforce, tips and tricks on their recruitment process, and plenty of time for you to ask those hard-hitting questions you have been wanting to know.